HEAVY-LIFT HANDLING: EXPORT OF OUTSIZED STEEL HOSE REEL FROM SINGAPORE TO SOUTH KOREA (2021)
Dimensions: Length 17.5m x Width 13.6m x Height 14.8m
Gross Weight: 256 tonnes
RSL Shipping Singapore's project team provided detailed planning and full export handling of one outsized steel hose reel on an ex-works basis on behalf of our Korean client:
Pick up from the fabricator's waterfront in Singapore's Tuas Jurong area
Roll-on loading onto barge
Transit storage till completion of direct overside loading ex-barge onto outbound self-geared heavy-lift vessel at Jurong Port, Singapore
This was done amid operational/physical constraints, such as changing timelines on cargo readiness, delays in the arrival times of the main MV at Singapore's only breakbulk terminal Jurong Port, loading and meeting requirements of port authorities and various stakeholders:
Narrow time window in which tide levels were suitable at the fabricator's Tuas waterfront for loadout. Twin multi 12-axle self-propelling motorised trailers (SPMTs) were required to roll the cargo onto the barge. Berthing/unberthing of the tug-barge was also restricted to certain daylight hours only.
Amid delays in the MV's ETA at Jurong Port, the team had to schedule the barge transfer to a private yard for transit before moving it onward to Jurong port, to be tied up at the MV for overside direct loading by outbound MV's heavy gear. This could only be done during daylight hours, for safety reasons.
In view of night-towing restrictions on tug-barge movements in Singapore waters, the team had to closely monitor MV's ETA and co-ordinate with the tug-barge operator, port and barge stevedores, unlashing gang, surveyor and outbound MV agents to minimise barge detention.
The team ensured that client and their reel supplier had installed suitable sling-shackles on the hose reel in time for testing and certification by professional engineers and Ministry of Manpower. RSL could then seek approval from Jurong Port's workplace safety and health department to load overside onto MV ex-barge.
The team provided the marine survey to check on each movement. The team also provided MV representatives and the cargo owner/supplier with the method statement, roll-on/SPMT transport plan for roll-on, barge deck stowage-lashing plan, intact and damage stability report, ballasting-stability calculations, MV's overside lifting, stowage and lashing plan, on-deck and tug-barge certifications, as well as cargo lifting and GA plans. The team also had to seek agreement on each movement from every party and co-ordinate their timelines.
1. Pre-setting of barge deck with steel plates for weight distribution. This included positioning twin 12-axle SPMTs at fabricator yard 2 days prior to roll-on loadout, and positioning tug-barge set alongside 1 day before.
Jacking up hose reel on SPMTs commenced at 0530 hours. Roll-on loading commenced at daybreak 0630 hours and had to be completed before 0800 hours during tight tidal time window at the berth.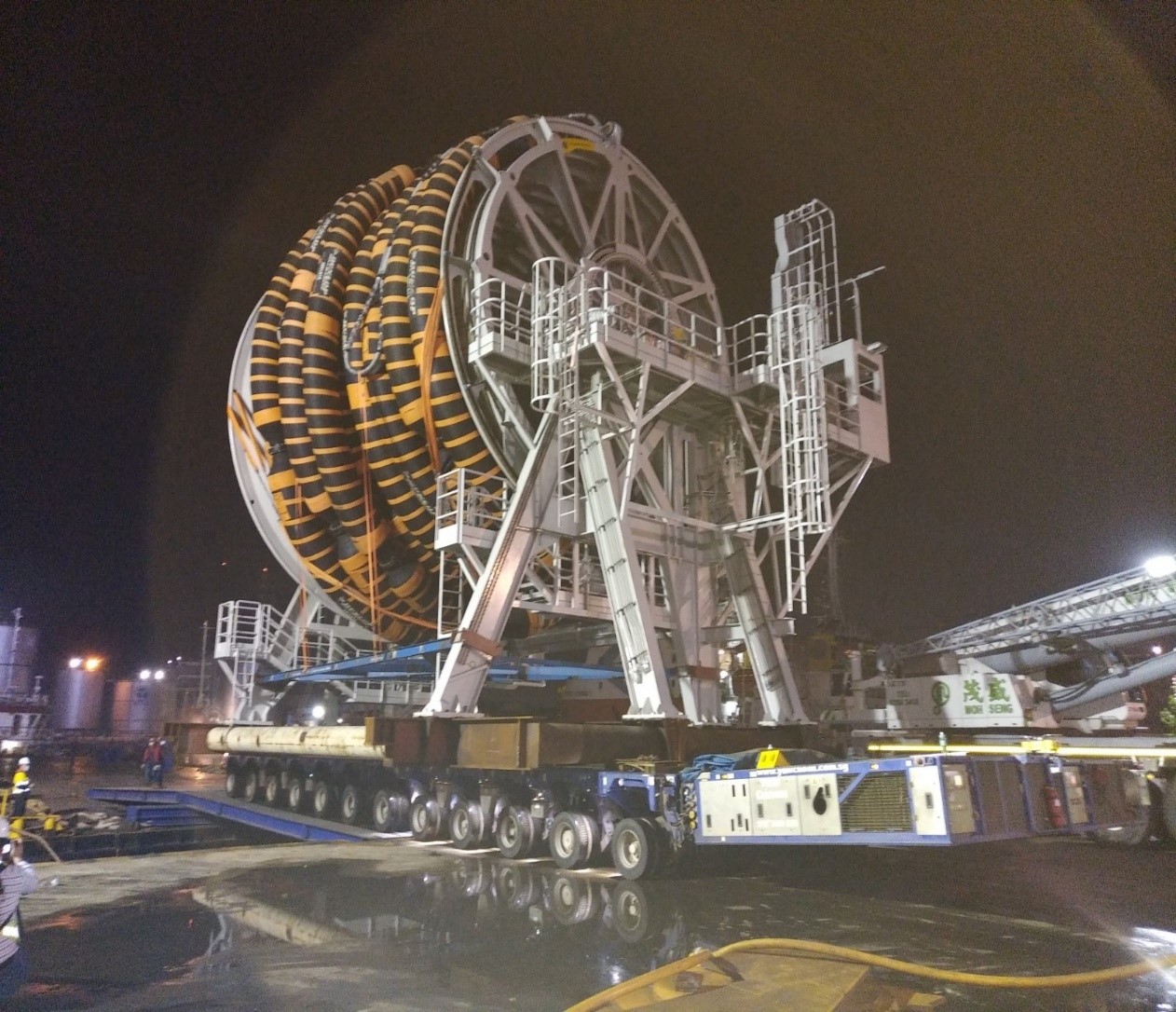 Dismantling the steel ramps welded to wharf upon completion of roll-on loading
2. Upon completion of roll-on, lashing with steel wire ropes/turnbuckles with welding commenced immediately, within the limited tidal time window before the tug-barge unberthed from fabricator's berth.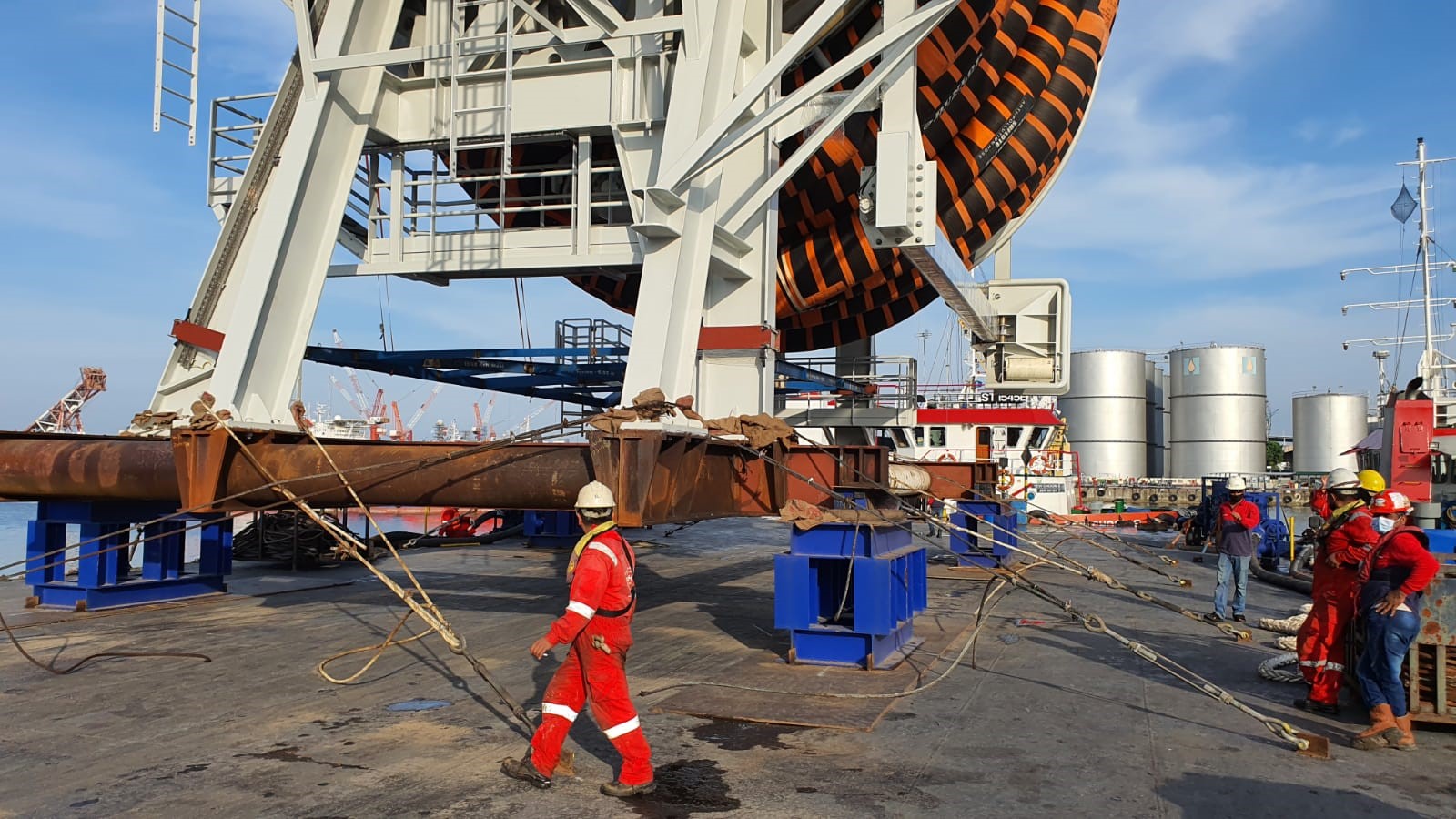 3. Laden barge had to shift to a temporary berth at a nearby private waterfront for transit floating storage, pending final confirmation of ETA of main MV at Jurong Port.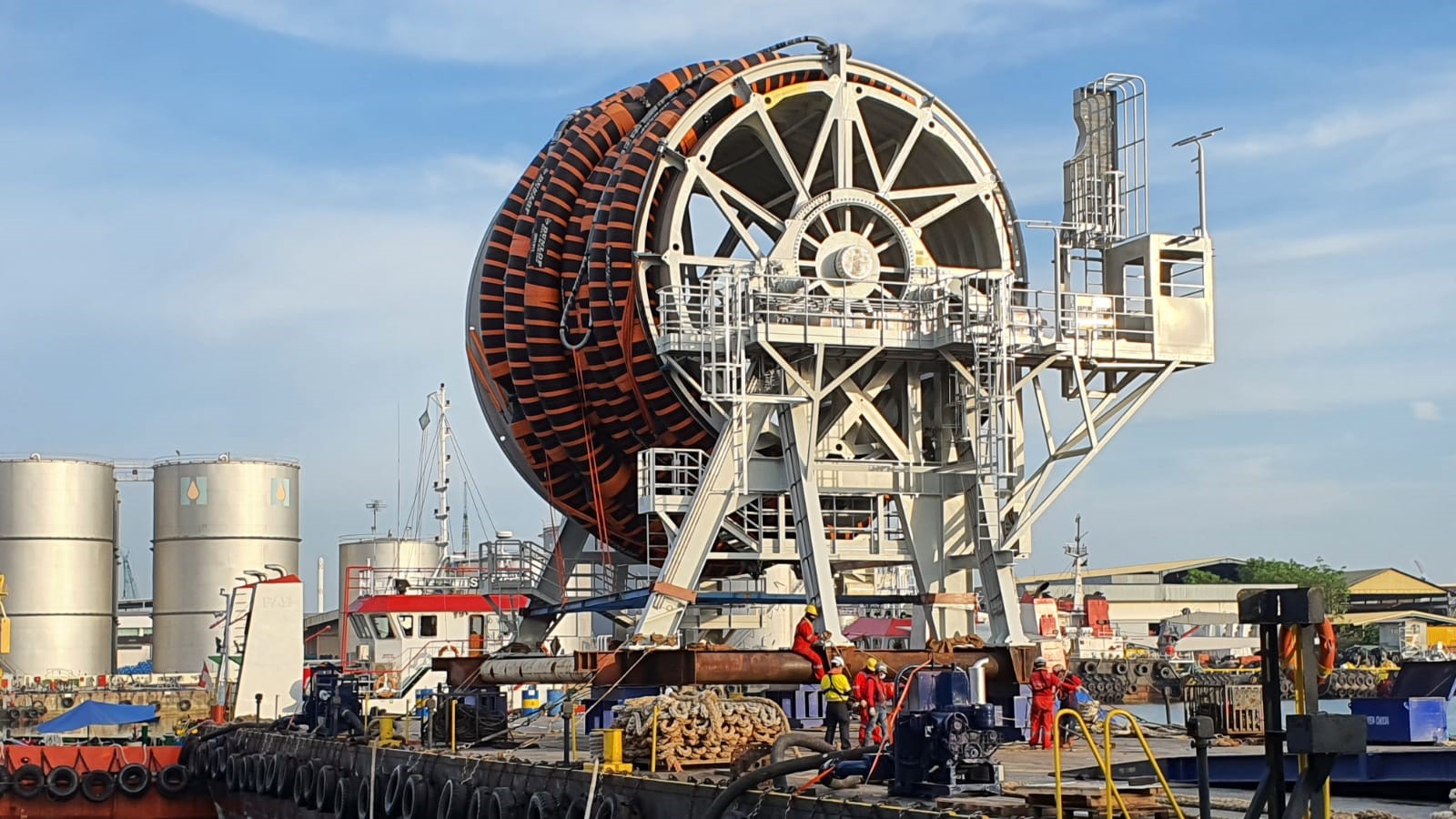 4. Upon confirmation of the MV's ETA at Jurong Port, barge had to be scheduled to move directly to tie up alongside the MV.
This minimised barge detention and extra dockage/berth costs, which would be incurred by temporarily berthing separately within Jurong Port to await the MV.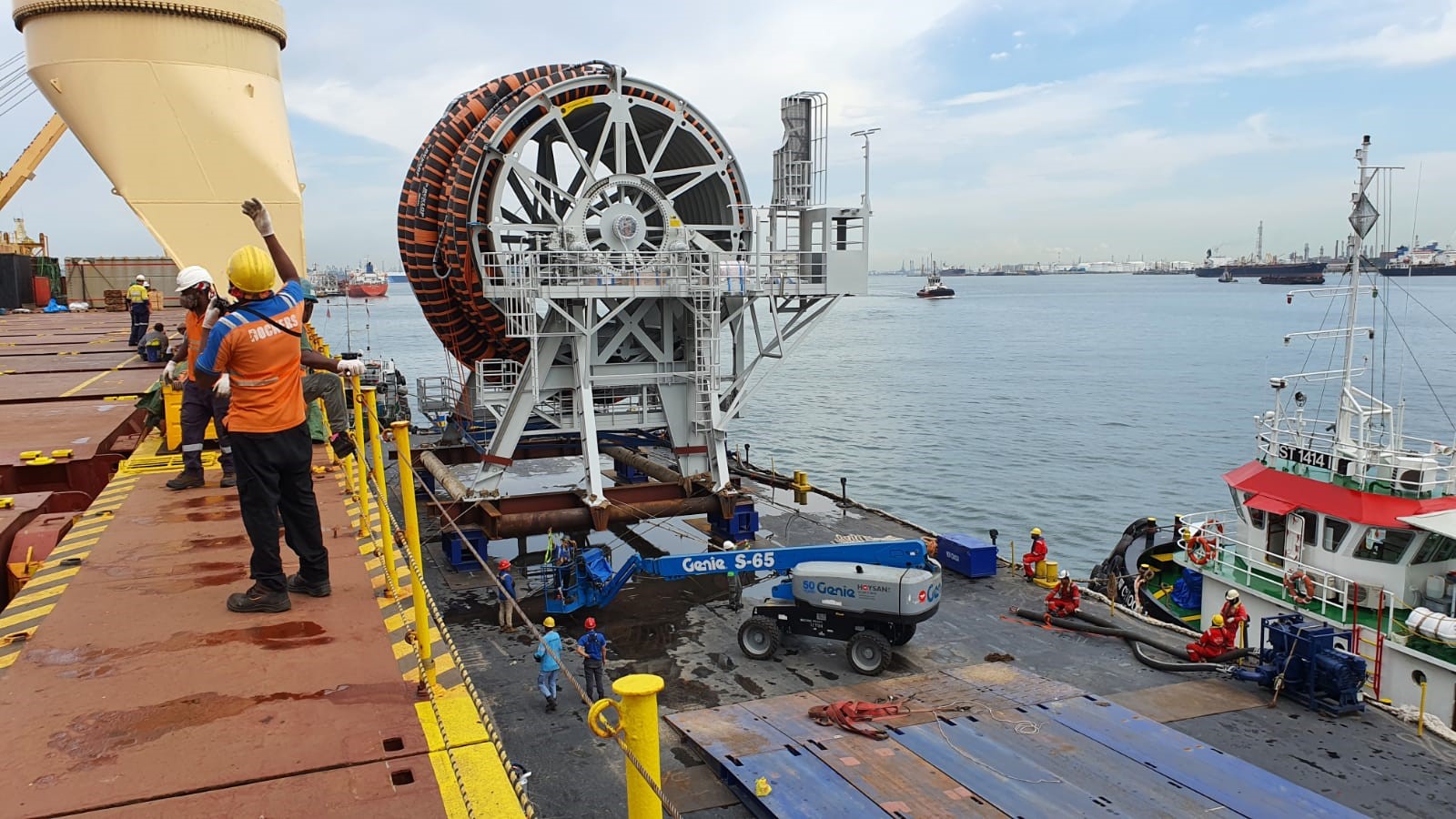 5. Upon barge arrival/securing at MV around 1300 hours, with limited daylight remaining and impending rain, unlashing of cargo immediately commenced.
The boom lift was transferred by ship crane from shore onto the barge deck, for 2 workers to reach 2 sling-shackle points on the hose reel, approximately 10 meters above barge deck level.
6. The 2 workers at a height of 10 metres above barge deck had to reach 2 pre-installed sling-shackle sets in turn and hook them onto the MV's twin-point hook for single lift by MV crane no.1.
Careful pre-study was required to determine the reach of the boom lift, remaining space on the barge deck for boom manoeuvring, size of the lift basket for 2 workers and the physical strength of the workers to lift each shackle-hook manually.
7. Pre-setting of dunnage on the MV deck to spread cargo weight before actual loading of hose reel onto the MV deck, while MV crew commenced ballasting MV in preparation for the lift.
Both done concurrently to save time.
8. Lifting of reel commenced thereafter and ended around 1725 hours, just before daylight working hours ended, as required by MV's technical team, for safety reasons.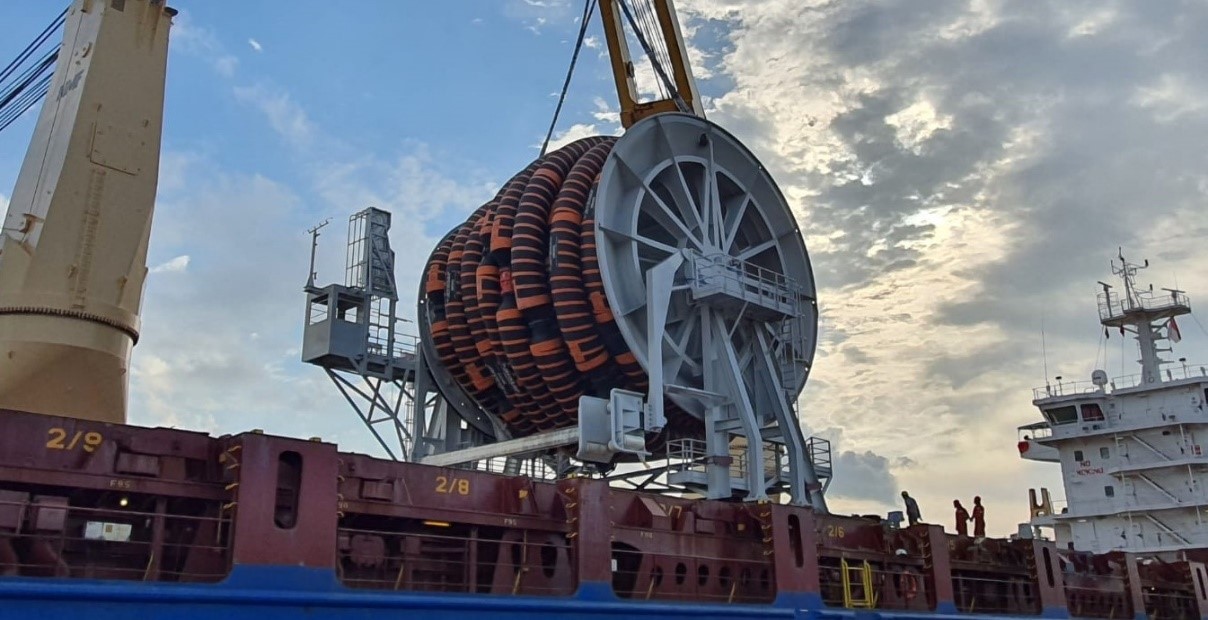 9. Some slight re-balancing of the reel done on deck – as the reel COG is slightly off-centre – before lashing and welding of sea-fastening on the MV deck commenced.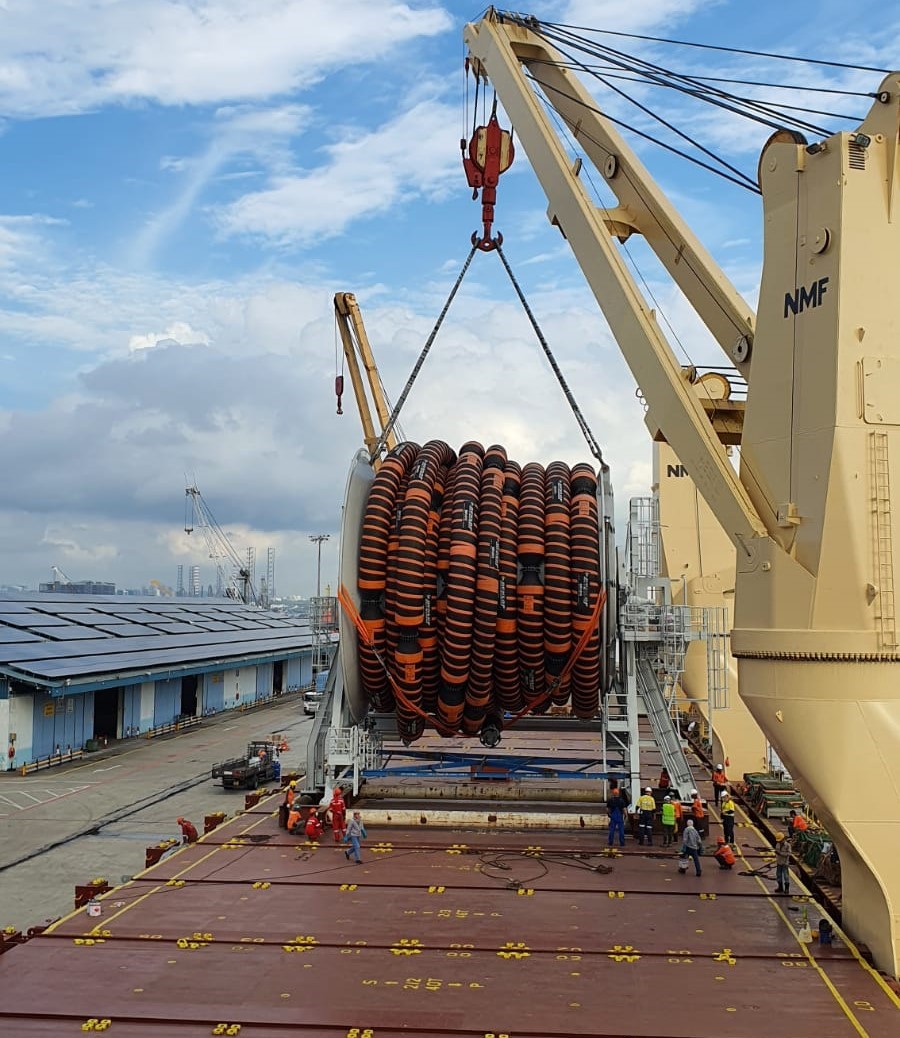 The MV departed same night for POD Geoje, South Korea